Southen Homemade Red Velvet Cake. *TRIED AND TRUE* Southern red velvet cake made from scratch the old-fashioned way. Easy recipe with homemade cream cheese icing. "Easy, moist red velvet cake recipe full of Southern charm with a secret ingredient! Frosted with Cream Cheese frosting!" In this video, Kevin makes a Southern Red Velvet Cake using a recipe from The Food Network.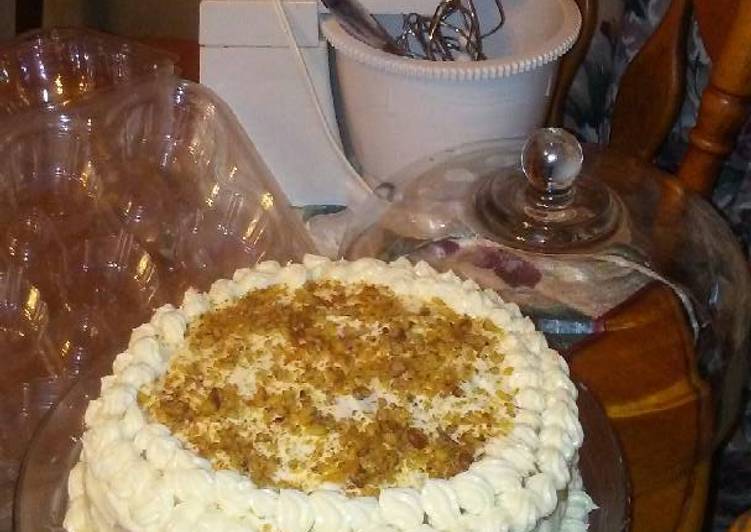 Bake, rotating the pans halfway through the cooking, until the cake pulls away from the side of the pans, and a toothpick. See more ideas about homemade red velvet cake, cake, red velvet cake. A slice of red velvet cake being removed from the full cake on a marble cake stand. [Homemade] Southern fried catfish and green beans w/ creole red beans and rice. You can cook Southen Homemade Red Velvet Cake using 11 ingredients and 4 steps. Here is how you achieve it.
Ingredients of Southen Homemade Red Velvet Cake
You need 3 cups of cake flour.
You need 1 tsp of salt.
You need 1 tsp of coco.
It's 1 tsp of vanilla extract.
It's 11/2 cup of oil.
Prepare 2 tbsp of red food color.
You need 11/2 cup of sugar.
Prepare 1 tsp of baking soda.
Prepare 1 cup of butter milk.
It's 2 of eggs.
Prepare 1 tsp of vinegar.
This scrumptious red velvet cake is filled with a cooked frosting, which is not as sweet as many frostings. Use a cream cheese frosting, if desired. Red Velvet Layer Cake with Cream Cheese Frosting. You can't go wrong with a double-layered cake coated with delicious frosting.
Southen Homemade Red Velvet Cake step by step
In separate bowls mix dry ingredients flour sugar coco salt baking soda.
Other bowl red food color eggs buttermilk vinegar vanilla and oil mix together then add dry ingredients.
Icing: 1lbs creamcheese 4cups confections sugar 2 sticks of unsalted butter 1tsp vanilla extract blend together about 5 mins.
Preheat oven 350 use pam baking spray to coat pans and continue to cook at 375 for 25 mins.
Get the recipe at Southern Bite. This cake is a cross between a pound cake and a regular cake, but twice. This Red Velvet Cake is one of the most mesmerizing cakes around. We don't think you can beat the classic red velvet and cream cheese combo. The tanginess of the cream cheese paired with the chocolate and slight tang of the buttermilk is a perfect pair!