Cheesy Chicken and Rice. Casseroles are the king of one-pot meals, and this cheesy chicken and rice recipe delivers. Everything, even the rice, cooks in a single baking dish so all you have to do is pop it into the oven. Just chicken, rice, creamy soup, Cheddar cheese and soft bread cubes, mixed together and baked.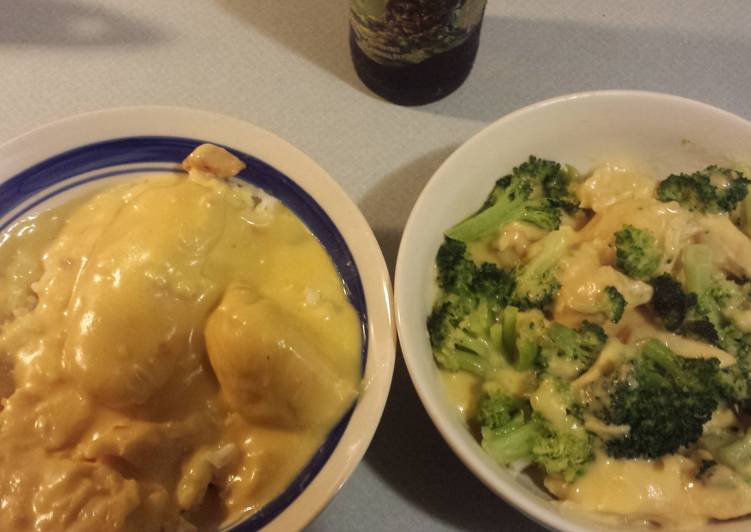 This Instant Pot Cheesy Chicken and Rice will be the best comfort food recipe that you make in your pressure cooker! A one-pot recipe loaded with cheese and. Cheesy Chicken and Rice is the dish even picky eaters LOVE! You can cook Cheesy Chicken and Rice using 4 ingredients and 3 steps. Here is how you cook it.
Ingredients of Cheesy Chicken and Rice
You need 6 of chicken breasts.
You need 1 can of Family size cream of chicken soup.
It's 2 cup of Sharp Cheddar (to taste).
It's 1 of Broccoli (optional).
This Cheesy Chicken and Rice is the perfect weeknight dinner recipe! It's a creamy, flavorful rice dish that's packed with chicken, vegetables and just the Pour in chicken broth and stir in rice. Stir and season with salt, pepper. Sprinkle the chicken with the remaining Parmesan cheese.
Cheesy Chicken and Rice step by step
Set crockpot on high. Add chicken breast then the cream of chicken soup. Make sure chicken is smothered in the soup..
Cook on high for 4 to 5 hours. Stirring occasionally. Add cheese and stir. Serve over rice..
If adding broccoli. Add florets to small bowl. Add a little bit of butter and a dash of salt. Put plastic wrap over the top of the bowl. Microwave for 6 minutes or 5. Till soft..
Give your everyday chicken and rice dinner a makeover with this deliciously cheesy chicken and yellow rice recipe. Simply stir flavor-packed GOYA® Yellow Rice with seasoned chicken breasts, veggies, and a handful of cheddar cheese. How to make Instant Pot Cheesy Chicken and Rice: To get started, cut up the raw chicken breasts into bite-sized pieces. Plug in your Instant Pot and press the "Saute" button to get the bowl inside the Instant Pot heated up. Once the screen on the Instant Pot reads "HOT" pour in the olive oil, and let.