Cheesy Broccoli Soup. Browse Our Collection Of Simple Cheese Soup Recipes and Prepare Yummy Meals! This is a great, very flavorful soup. Good for serving at luncheons or special gatherings with a quiche.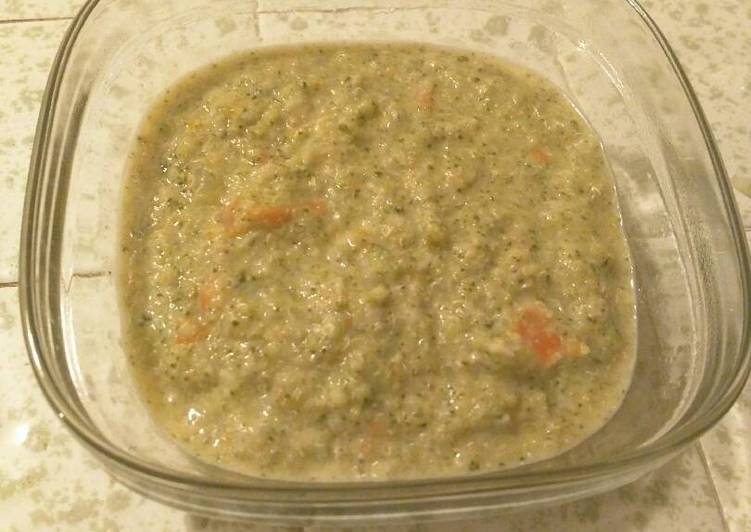 Add the nutmeg, then the broccoli, a small dash of salt and plenty of black pepper. Cover the pot and reduce the heat to low. How to Make Broccoli Cheese Soup. You can have Cheesy Broccoli Soup using 12 ingredients and 6 steps. Here is how you cook it.
Ingredients of Cheesy Broccoli Soup
Prepare 2 tbsp of avocado oil.
Prepare 1/2 cup of diced onion (about half an onion).
It's 1/2 cup of diced carrots (about 2 carrots).
Prepare 1/2 cup of diced celery (about 2 stalks).
You need 2 cups of broccoli, florets and stems (about 2 stalks).
You need 4 cups of chicken broth.
It's 1 pinch of cayenne.
Prepare to taste of Salt.
You need 1/2 of lemon, juiced.
It's 4 ounces of goat cheese.
You need 3 ounces of manchego cheese.
Prepare 1/4 cup of uncooked quinoa.
Saute onion: Melt butter in pot over medium-high heat. Add liquids: While whisking, slowly pour in milk then chicken broth. Drain, remove vegetables and set aside. Since most broccoli cheese soup recipes, whether they are homemade or at restaurants, contain starch as a thickener, they are not low carb.
Cheesy Broccoli Soup step by step
Heat avocado oil in large pot over medium heat..
Add onion, carrots, and celery. Cook until onions are translucent (about 3 to 5 minutes)..
Add broccoli, broth, quinoa, cayenne and salt. Simmer for 15 minutes..
Remove from heat and let cool for 5 minutes..
Add goat cheese, manchego cheese, and lemon juice..
Blend with immersion blender until desired consistency..
My husband loves Panera® broccoli cheddar soup but it went up in price and therefore we set out on a hunt to create the perfect broccoli cheddar soup. Here is what we came up with. There are tons of variations and options to make this soup your own. You can add extra veggies, different cheeses, garlic to your onions, a little nutmeg to the. Not only that, it's some of the best soup I've ever tasted, period.