Chicken and rice casserole, aka leftovers. A great use for leftover chicken or turkey. Uses no Cream of Whatever soup. A creamy wonderful one dish meal of chicken, rice 'n peas, topped off with a mixture of bread crumbs and Parmesan cheese and baked until golden brown.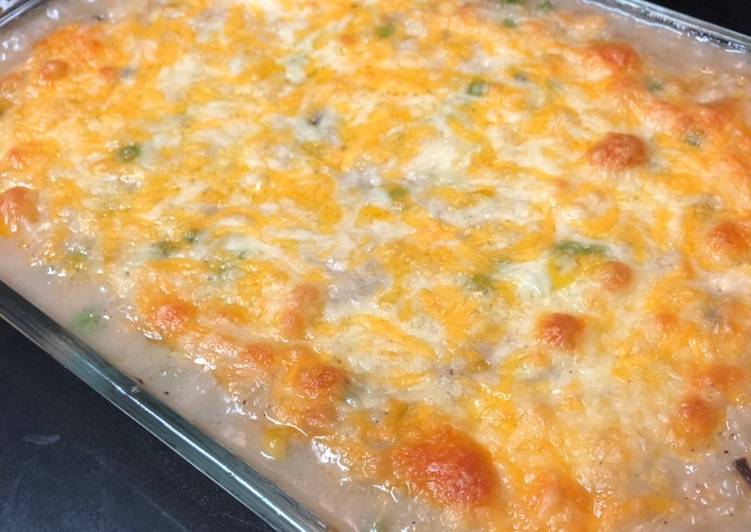 Chicken and Rice Casserole. this link is to an external site that may or may not meet accessibility guidelines. After making my Cilantro-Lime Chicken Casserole, I wondered if there was a way to make it with fewer dishes, especially since I didn't have any leftover rice and had to cook rice as well. Then I remembered I had an oven safe skillet with a lid, so I decided to cook the dish entirely in that pan. You can cook Chicken and rice casserole, aka leftovers using 9 ingredients and 3 steps. Here is how you cook that.
Ingredients of Chicken and rice casserole, aka leftovers
You need of packed leftover cold cooked rice.
You need of leftover cold cooked chicken.
You need of large can (22.6 oz) cream of mushroom soup.
You need of whole kernel corn, drained.
You need of frozen peas.
Prepare of Parmesan cheese.
You need of Pepper, garlic and onion powders.
It's of water.
Prepare of Grated cheese of choice for top.
Casseroles are the perfect weeknight meal and we just happen to LOVE them around here. Our very favorite casserole recipe is this Chicken and Rice Casserole and it's one of the most-requested meals from both the boys and Chris – they just can't get enough of it! This chicken and dressing casserole is perfect for when you have leftovers from a big holiday meal or a weekend gathering. For our bake, we chose rice to make a rich casserole but stuck closely to the original set of chicken ingredients.
Chicken and rice casserole, aka leftovers step by step
Preheat the oven to 350. Spray or butter a medium sized casserole dish..
In a large bow, combine the first 8 ingredients well. Pour into greased casserole and cover with aluminum foil. Bake for 45 minutes..
After 45 minutes pull it out of the oven, crank the temp to 400, and remove foil. Add your grated cheese to the top and return to the oven uncovered for 15 minutes longer. Allow it to sit for a bit to thicken. I serve it with salad and garlic bread..
Replace broccoli with cauliflower, or add other vegetables of your. This chicken and rice casserole dinner from Delish.com is the easiest decision you'll make all week. Is there anything more comforting than a chicken & rice casserole? It's the type of recipe we turn to time after time again during the fall and winter, just like roast. Finish with chopped parsley and serve in warm bowls with grated Parmesan on top.